The Michigan Island Mystery
The most notorious Apostle Islands mystery: was the islands' first lighthouse really built on the wrong island? And if so, why?
More Michigan Island Mysteries
True stories of good and evil, heartbreak and joy.... but no ghosts!
To Save The Devils Island Lens
How three determined citizens rescued a historic treasure.
Surprise! You Are The Proud Owner...
How the National Park Service found out about some extra lighthouses it didn't know it owned.
Oak Island Inferno, 1943
The fire that nearly burned an entire island.
Sand Island: Girls Just Wanna Have Fun
A discovery in an antique store opens a window into womens' history on the Apostle Islands.
Lighthouses of the Apostle Islands
Tales from "the nation's finest collection of historic lighthouses."
"A Poor Imitation of a Fourth"
Celebrating Independence Day At The Lighthouses- Or Not
"The Most Stupendous Of God's Works"
From Madeline Island to Yosemite Valley: the many journeys of Florantha Thompson Sproat.
The Nation's Largest Collection Of Lighthouse Bloopers
When a specialized web site gets it all wrong about a place you know well, or "Don't believe everything you read about lighthouses on the Internet."
Someone's Been Here Before
Wherever you pitch your tent or beach your kayak in the Apostle Islands, someone's been there before.
Basswood Island: The Apostles' Emerald Isle
Searching for- and finding- the islands' Irish heritage.
The Day The Ships Went Down
Two ships, twelve lives... lost on the Apostle Islands' deadliest day.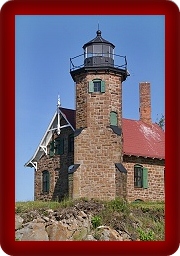 Ghosts of the Apostle Islands
Seeking traces of those who have gone before.
Big Ole: Xtreme Boatman of the Apostle Islands
Paul Bunyan wasn't the only larger-than-life character in the north country... but Big Ole was real.
Sad Christmas On Basswood Island
On Christmas Eve, 1893, a young mother lost her life in a blizzard on the ice of Lake Superior.
Early History of Washburn's Memorial Park
Historic Site Designation : the story of a community treasure.