Barksdale Monument, Woodland Cemetery,
Washburn, Wisconsin
Washburn Times, August 30, 1928
Two killed in powder blast at DuPont plant

All Washburn was sorrowed over two serious accidents which occurred at the plant of the DuPont Co. at Barksdale last week in which three men lost their lives.

The first accident was that of an acid spill in one of the houses. Anton Mager inhaled nitric acid fumes which caused his death at the Washburn Hospital last Thursday evening despite all physicians could do to save him.

The second serious accident occurred the following day at 3:45 o'clock when an explosion in the gelatin cartridge packing machine house number one, when about 1,000 pounds of gelatin powder exploded, completely wrecking the building and killing instantly the two workmen in the building, Conrad Holman, age 45, and Alban Renstrom, age 38.

The three accidents broke a long safety record at the plant which has operated for a period of 519 days without a major accident of any nature in any of the departments, and a much longer record in the powder line.

The crack which the explosion caused was plainly heard in this city which is located nearly 5 miles distant from the plant… About 1000 pounds of the gelatin powder was contained in the house which blew up, but the cause of the explosion will never be known for the reason that the two men who might be able to tell what occurred both lost their lives…
The article goes on at considerable length, concluding,
The funerals for the three men who were killed were the largest ever held in the city. The funeral for Anton Mager was held at the St. Louis Catholic Church Monday morning, at nine o'clock and interment was in the Woodland Cemetery. The funeral for Alban Renstrom was held on Monday afternoon from the family residence on W. 5th St and from the Norwegian Lutheran church, while the funeral for Conrad Holman was held Tuesday afternoon at the Norwegian Lutheran church. Interment of Renstrom and Holman was in Woodland Cemetery.
So, neighbors of ours: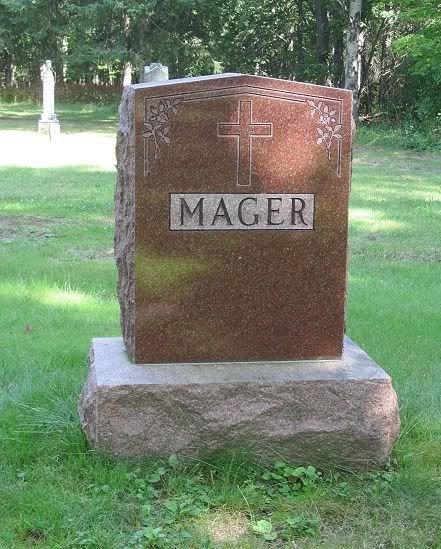 Mager Family Plot, Woodland Cemetery
Anton Mager, killed in an industrial accident
at the DuPont Co. Barksdale Works
His infant daughter Minerva,
1892-1893
Dora Mager, who outlived her husband and
daughter by many decades.