Bayfield County Press, September 10, 1936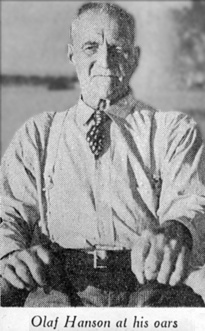 Ole Hanson Drops Out Of Boat Race

Handicapped by conditions to which he could not adjust himself, caused the retirement of Ole Hanson, Bayfield's veteran oarsman, after 45 minutes of rowing in the rowboat Derby which was staged between Winneconne and Oshkosh on Labor Day.

In the first place Ole insisted on rowing "alone" while the rules required that two men be in the boat and permitted both men to row alternately whenever they wished. In Ole's case it was hardly a sporting proposition, but to the others it was a decided advantage. However, Ole knew of this rule and entered the race in spite of the odds. He carried H. Gotchie of Madeline Island with him as an extra rider to comply with the rule.

According to Joe O'Malley's description of the race, Ole was holding his own nicely and without strain during his entire stay in the race. Ole states, however, that he decided to give the boys a little run for their money and so put more power in his stroke. Just as he was pulling ahead nicely the lighter air seemed to choke his breathing and cause severe coughing. It was at this point that Ole became distressed and dropped out of the race.

In spite of his dropping out of the race, Ole is credited with putting over an excellent rowing demonstration which was a sight to watch in comparison with the technique of his competitors. He was admittedly the outstanding oarsman of the day, and as such drew the admiration the spectators.

Before leaving Oshkosh, Mr. O'Malley and Ole left a standing offer of one hundred dollars to the winner of a match between Ole and all other comers over a course between Ashland and Bayfield, the event to be a singles contest with only one man rowing. This is the type of race which Ole believes to be the true test of rowing skill.
Sixty-something years old and he enters a two-man team race… single-handed. Guy had a pair of brass… oars. Brass oars, that's it. Would have been so cool if he'd won, but I guess that kind of stuff only happens in movies.
I have more about "Big Ole" Hanson (just as often spelled "Hansen" in the papers) here and here. Amazing dude.
PS- And while we are on the subject of Hansons and Hansens, happy anniversary to Fred and Agnetta Hansen of Sand Island, married this date in 1904. Fred was twenty and Nettie just shy of her eighteenth birthday. No word on whether Mr. and Mrs. Luick attended the wedding.