Michigan Island Light Station, September 30, 1929
Put Gull Island in commission today. 10:30 AM. 15 º Atmospheres registered on tank.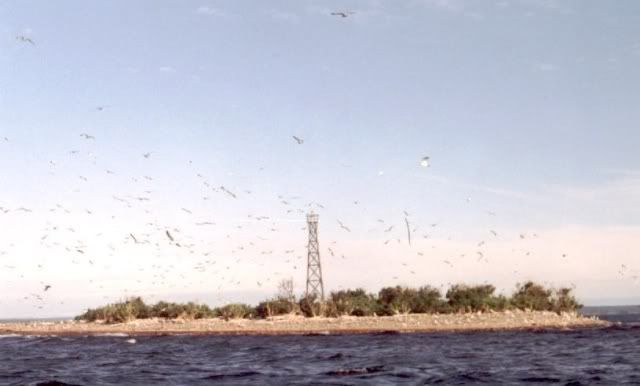 Gull Island
That's right- today is the eighty-second birthday for the lonely light tower that marks one of the most dangerous points in the Apostles archipelago.
Uncle Sam sure took his time to address the dangers of this spot, though. A whole parade of ships ran aground, sank, and even burned in this rocky neighborhood between the initial proposal for a light on Gull Island in 1863 and the autumn day in 1929 when Ed Lane lit its acetylene lamp for the first time: the Vega, the Bulgaria, the Ireland, the William Corey, the Thomas Wilson, the R.G. Stewart and others.
In her classic 1944 history, Lake Superior, Grace Nute recounts a Gull Island near-disaster suffered by one of Gitche Gummee's most famous early mariners, Capt. Alexander MacDougal:
In 1865 McDougal was first mate on the steamer Iron City.  There was no canal across Keweenaw Point and at Eagle River he found the steamer Lac LaBelle aground on a shoal, loaded with Indian supplies for the payment at Grand Portage.  He spent two days and nights there without sleep supervising the transfer of the cargo to his own ship.

"After we got started for Grand Portage, it was my watch on deck.  While the captain, Indian agents, and others were having a good time, I was walking about the deck asleep.  In approaching the Apostle Islands, it was smoky and, my eyes dimmed, I made a mistake in the island we were about to pass up. She slid on the rocky, gravel bottom of Gull Island shoal among thousands of gulls."

He got her off by working the double screws ahead and back, and finally reached Grand Portage, where they "made this last payment to a tribe of Indians from the interior, north of Lake Superior.  I think there were about 1400 Indians there for two days and they had a good time of it, our cargo of supplies being divided among them."
Incidentally, Gull Island has the distinction of being the only one of the Apostles my feet have never touched. As a bird sanctuary, it's closed to visitation, and even official access is discouraged without compelling reason.
**********
But wait- there's more!
Annual Report of the U.S. Lighthouse Board, 1892
Devils Island, Wisconsin: This station was put in operation September 30, 1891.
Birthday wishes go out to the Devils Island Light Station, too- 120 years old today. The existing tower, shown below, is a smidgeon younger, having only been erected in 1898 to replace the temporary wooden structure built while Congress was arguing about funding. Some things never change.