From VP Vader's to-do list:
1. Do something about all those embarrassing documents.
Fire breaks out on White House grounds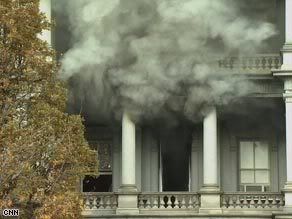 CNN, Dec. 19, 2007:
WASHINGTON (CNN) — Firefighters quickly doused a two-alarm fire Wednesday in the historic Eisenhower Executive Office Building, which houses the vice president's ceremonial offices and the majority of the White House staff.
Cue Church Lady:
"How convenient!"
Update: Reports indicate that Laura Bush bravely channeled Dolly Madison, rushing through smoke and flame to rescue the Elvis picture.