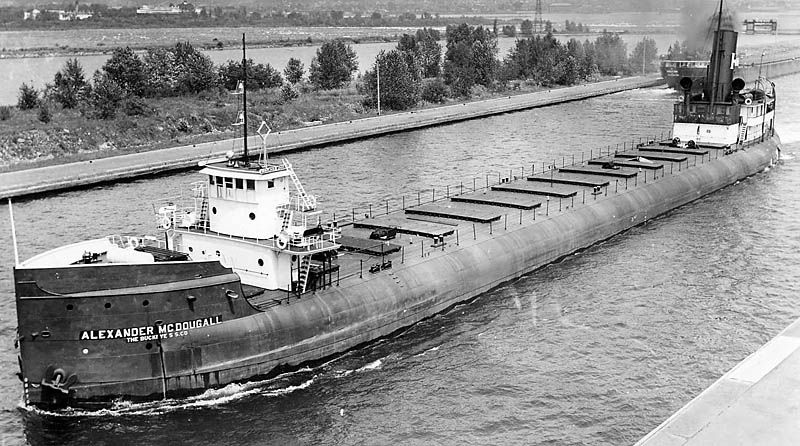 Whaleback steamer at the Soo Locks
LaPointe Light Station, June 12, 1896
Variable light clear. On the night of the 8, two pigs went ashore east of fog signal. They heard the signal and headed for the sound but was too close and let go of the pigs. They went high and dry. Barge No. 134 got off at 5 A.M. on the 12 instant.
"Pigs?"
Yes- a derisive nickname for the "whaleback" ships that were a curiosity seen on the Great Lakes from the late 1800s through the first few decades of the twentieth century. Designed by Capt. Alexander MacDougall of Duluth, these streamlined ships looked much like submarines, or perhaps whales to observers with imagination. Others, like keeper Joe Sexton,  called them by this less flattering name. The ships' cigar-shaped hulls cut smoothly through the water, making them especially suitable for service as the towed partner in the "steamer and consort" arrangement, which seems to be the case here.
A total of 42 whalebacks were built from 1887 through 1898, nearly all in the shipyards of Duluth and Superior. These ships were primarily used in the Great Lakes ore and grain trade, but in later years, some wandered off to the salt seas. The advantages of their design were eventually found to be outweighed by the complications encountered when loading and unloading cargo through the necessarily small hatches, and the design fell out of favor fairly quickly.
A single example of the class has been preserved and is open for public view: the SS Meteor in Superior, Wisconsin.