Maybe you have heard of the 1920 lynching of three black men in Duluth. Maybe you've even seen the monument at the corner of First Street and Second Avenue East. This is how the Washburn paper reported the incident at the time, complete and unedited.
Washburn Times, June 17, 1920
Three Black Brutes Are Lynched at Duluth

Mob of Angry Citizens Wrecked Jail and Mete Out Punishment According to Their Belief

The city of Duluth was a scene of a triple lynching on Tuesday night when a mob of citizens, driven mad over a dastardly deed committed by the black men, took the law into their own hands and meted out the kind of punishment which they thought the niggers deserved.

The crime which had been perpetrated by the blacks and for which they were later removed from the jail and hanged was for assault upon a young Duluth girl. The girl had gone to the circus with her young beau and when the two were watching the loading of the animals, when a black brute pointed a revolver at the head of the young man while the other blacks carried off the young girl and assaulted her.

The black devils were later arrested and taken to the Duluth city jail where they were locked up.

During the early evening a report was circulated to the effect that the girl victim had died and it so enraged Duluth's citizens that a mob was soon formed and proceeded to the jail to get revenge. The police department, the sheriff's force, and the fire department were called out to try and disperse the mob which by this time numbered some 5000 people, but they were driven back by the mob who turned the fire hose upon the defenders of the jail, and after wrecking the jail, and removing the niggers, proceeded to hang the blacks to one of the lamp standards on a prominent corner in Duluth.
Yeah. That's what they wrote.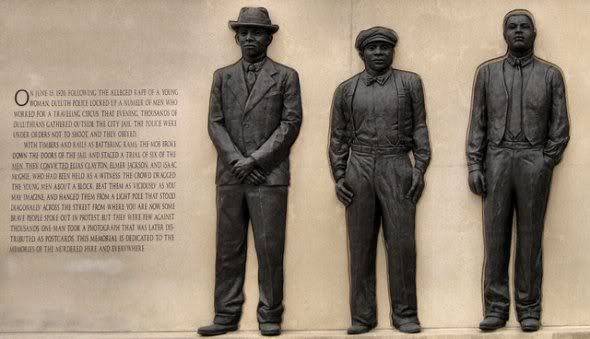 Elias Clayton, Elmer Jackson and Issac McGhie