Raspberry Island Light Station, July 7, 1930
Painted skiff. Trimmed grass around buildings. worked at Sand Island Painting dome and trimming on tower and inside of dome. The aeroplane "Silver Cloud" from St. Paul, landed at Sand Island at 12:10 P.M., with people who lease the dwelling there. Remained until 4:10 P.M., then left for St. Paul. Keepers returned to Raspberry about 5 P.M.
"The people who lease the dwelling there" would be the family of Gert Wellisch, who actually held the lease. The "aeroplane" belonged to (or perhaps was hired by) her brother Walton, known to friends as "Bun," who was quite the aviation enthusiast. The picture below shows the plane at East Bay, perhaps on the 1932 occasion described by Burt Hill:
"We were given quite a surprise on Decoration day when Bun Wellish landed on our beach with his sea plane. His pilot took Mae up in the air for a short spin and she thought it was wonderful. I did not care to go up, so Bun took me for a spin on the lake. Although going at a speed of forty miles an hour, it did not seem any different than traveling in our old boat at seven miles an hour. Anyway, it did not give me any more thrilling experience."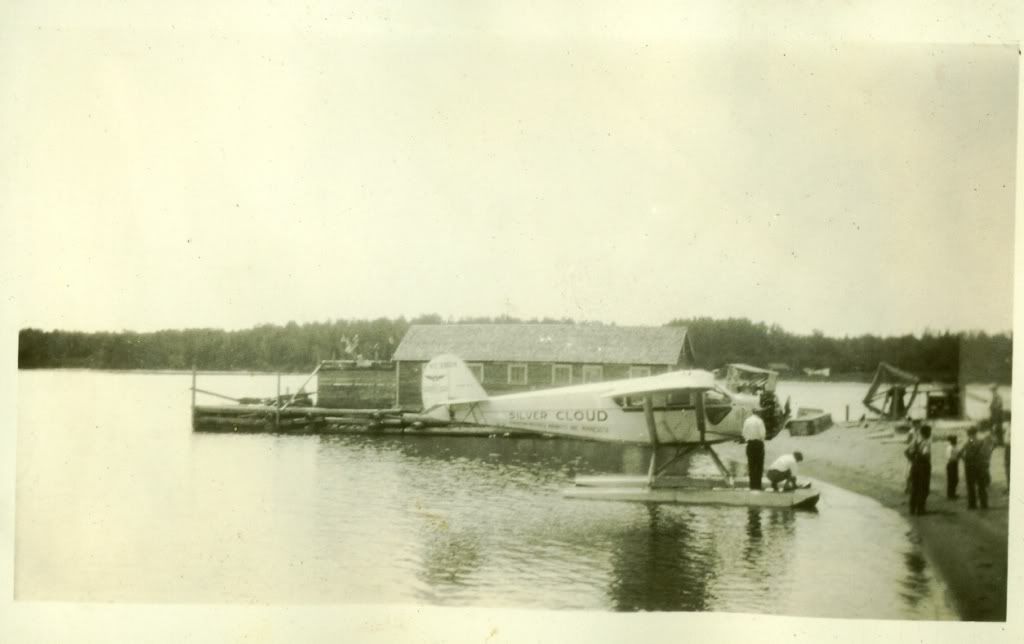 Silver Cloud at Louis Moe's dock.